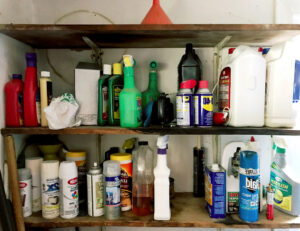 If you want to make a change or you feel like your home is full of things and items you don't really need or want, you probably are in need of a house detox. This term describes the overall decluttering and cleaning of a house. This article will help you sort a plan out. We will list all areas and things you should especially pay attention to.
The best way to approach this is to perform one task every day. That will work especially well if you are busy and you don't have much free time. All of these tasks are simple and will only take you 15-20 minutes, some even less. You will only need garbage bags, and some boxes and containers. Here is the full list which you can use. If it does not fit your house ideally, feel free to modify it.

Entryway & Mudroom – Get rid of all coats and shoes that you no longer use. Organise your items by season and put away what you will not be using anytime soon. Rearrange your closet or hanger.
Kitchen Cabinets cleaning – Get rid of unnecessary items like utensils or cookbooks. Rearrange items and food jars. Make sure everything is properly sealed and remove any outdated products.
Fridge & Freezer – Remove items that are expired, mouldy or you will never use. Minimise packaging and organise them all to save space. Mind your storage space and use more efficient containers. Clean your refrigerator and freezer if needed.

Pantry & Food Storage – Get rid of expired food. Go through all spices as well, and check for broken packages or containers. Put items that are close to their expiration date in the front.

Medicine Cabinet – Remove any expired medicine and get rid of what you no longer need or use. Return them to your pharmacy for proper disposal and replace what you need.
Dining Area – Keep your table clutter free. provide proper storage space for items you frequently use but don't want to be on the table all the time. Donate dishes, serving ware or other things that are good to use but you no longer need.

Living Area – Declutter your shelves, cupboards and coffee table. Fold and organise your sofa blankets and pillows. Reorganise your decorations and get rid of what you no longer like.

Magazines & Books – Get rid of any outdated magazines you are keeping for no particular reason. Cut out articles you are interested in and keep them in a separate folder. Set your books in a logical order and get rid of any old ones you do not enjoy reading anymore.
Sell them on the internet or donate them to a local library.
Junk Drawer – Remove any items and pieces that you find unnecessary. Use containers to organise and store similar pieces together.
Desk – Sort your office supplies, use small containers to easily organise your space. Remove all rubbish, empty your bin and remove all items that do not belong there.
Paperwork – Go through bills. receipts and any other paperwork. Toss or shred it. You can also use that for your fireplace (if you are lucky to have one).
Nightstand – Clear off the table top and sort your drawers. Make sure you only keep what you really need there. Put away items that are not supposed to be there.
Bathroom Cabinets – Go through beauty products and other items. Remove expired products and replace them with new ones. Make sure no rubbish can be found there.
Makeup – Get rid of all things you no longer use. Products that are dried, expired or no longer your style have to go. Pick your favourites and keep them. If you have a lot of makeup, organise it by items in plastic containers.
Jewelry – Sort out all your jewelry and get rid of whatever you no longer wear. Check if any items need cleaning or repair. Get a jewelry box or organiser to store all your jewelry pieces.

Closet – Organise your clothes by season and style. Donate any quality pieces that you no longer use. If you're in need of cash, make a garage sale or post them online.

Socks & Underwear – Make sure you have matching socks with no holes. Only keep socks and underwear you use. If you get rid of some old, worn out ones – replace them.

Linen Closet – Get rid of linen that you don't really use anymore. Throw away any old ones that are worn out or have holes in them.

Laundry Room – Sort through cupboards and get rid of any products that are expired. Toss any unmatched socks that are hanging around.
Cleaning Supplies – Get rid of products that are expired or you never use. See if you can replace some of your old toxic products with green-cleaning products. Throw away any cloths and rags that are at the end of their life.
Basement & Garage – These places hold a lot of clutter. Get rid of unnecessary items and organise the rest on shelves and cupboards.
Car – Grab two bags – one for the rubbish and one for the things that don't belong in your car. Put them away and reorganise whatever is left inside your vehicle.
Purse – Get rid of the rubbish, receipts and items that you don't need. Use a small pouch for small items like keys, vape, makeup etc. By doing this, you will be able to easily transfer them from purse to purse. Donate or sell all handbags that you no longer like.