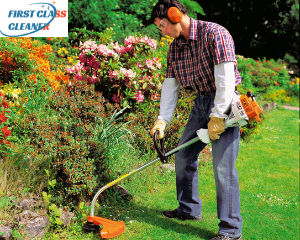 If you need help with your gardening work and don't have the time and skills to do it, we can help you. Our gardeners can take care of your plants, walkways and whole outdoor area doing everything that is most necessary. They can provide the work at a suitable time and do the needed gardening one off or regularly, depending on the preferences of the customer. Rely on our gardeners who work in the area of London to make your house more inviting and looking much better.
Having an outdoor space is a great privilege and many of us adore spending time outside. Having tea or coffee in the afternoon, inviting friends for a BBQ or just relaxing on a warm summer day. However, gardens require a lot of maintenance and attention. Not all of us have the time to take care of our outdoor space regularly.
This is when we suggest you call us. We provide professional gardening services and our technicians will make sure all your requirements are taken into consideration.
Whether your lawn needs mowing, weeds have taken over, you have a tree blocking your sunshine or your patio is dirty and needs a deep clean, we will be there for you. Here is a list with services we can provide for your garden.
| | |
| --- | --- |
| Gardening Services | Price per Hour |
| Lawn Mowing | £45 |
| Hedge Trimming | £45 |
You can use the services of our gardeners which include:
Weed removal – all those climbing, invasive plants that take over your beautiful garden can be removed now. We work with special weed-killing chemicals which work wonders on your garden but also do not put your health at risk.
Trimming hedges and bushes – maintaining the shape of the bushes in the garden is a task that requires professional equipment and skills. It is not an easy job but our technicians have specialised in doing just that.
Cutting excess tree branches – If some of the branches of your trees have overgrown and are now blocking the sun or are causing any potential damage to your property, we can safely take them down and turn your garden into a beautiful, spacious green area.
Mowing the meadow – Lawn cutting is a time consuming task and definitely not a favourite one for most of us. Maintaining your grass, however, benefits you in more than one way. Not only is it pleasant to look at the freshly cut lawn but it is also quite healthy for its growth and overall condition.
Watering the plants – Maintaining your plants and flower beds can highly improve the look of your garden. Watering them and weeding the area around them helps them grow strong and beautiful. Hire us and we will take care of that for you.
Fertilizing the soil in the garden – Depending on the area you live in, your soil might not be that fertile. This can cause your grass or plants not being as healthy as you would like them to be. We have a wide range of high quality fertilizers to use on your outdoor space.
Cleaning the waste, weeds and rubbish from the garden and outdoor area – after the long winter there are usually piles of autumn leaves and other green waste in your garden. Let us take care of it. We can clear up the space for you and let you enjoy its full potential.
Pressure washing walkways, paths, brick and paved areas – is your patio or driveway looking dirty and dull? Do not worry, we provide professional jet washing to all our customers. This is an extremely efficient cleaning method that will do wonders to your exterior.
Turfing and seeding new plants by request – You wish you had more plants in your garden? We can do just that! planting new flowers, laying grass patches and maintaining their condition are things we do quite well.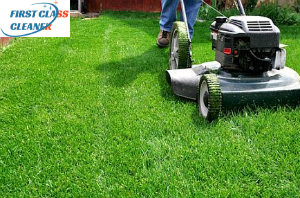 If your garden has overgrown, needs proper maintenance and regular care, get in touch with us. We will send any of our skilful and experienced gardeners to take care of your plants. They will shape the bushes, trim the hedges, cut the surplus tree branches, mow the lawn with specialised machines for this purpose. If the soil in your garden isn't healthy and rich enough, our gardeners will apply the proper fertilizers. They can remove old turf and seed new one, water your garden, install new fences around it. Use the reliable services of our gardeners which we provide in London every day of the week. We only use top quality petrol equipment in order to provide the best results. Your garden can look the way it does in your dreams. We are just one call away.
After the required gardening is completed, we will clean your whole garden area and pressure wash the pathways and walkways in it. Our gardeners will make your outdoor areas clean and neat using modern machines, the proper instruments and detergents.
From creating a new garden design, through regular maintenance to clearing your outdoor area, we will do what it takes to make your home and commercial property attractive. Get in touch with our company, located in London and we will send our gardeners to your address as fast as possible.
Find Our Gardeners Here:
If the soil in your garden isn't healthy and rich enough, our gardeners will apply the proper fertilisers. They can remove old turf and seed new one, water your garden, install new fence around it. Use the reliable services of our gardeners which we provide in London every day in the week.
Frequently Asked Questions
Do you use any harsh chemicals when jet washing my paths/patio?

No. Jet washing is extremely efficient and it only uses high pressure pure water. The machine extracts water under certain pressure ( our technicians know exactly how much pressure is needed to clean a surface without causing damage to it) and it is extremely efficient in removing dirt, moss, algae and even tiny weeds. No chemicals are used and it is the ultimate eco-friendly cleaning technique.

Can you come work on my garden if the weather is bad?

It really depends on what type of service you need . We usually come if the weather is bad and it rains, however, if a more serious storm is on its way, we will reschedule your appointment.

Can you fix the bald patches on my lawn?

Yes! By aerating the soil, fertilizing and overseeding it. This results in your bald patches disappearing over a short period of time.

Can you remove big trees from my garden?

Yes, we can remove any types of plants you do not wish to have in your garden, however, if you live in London, we suggest you ask permission from the council. This might be required for certain species of trees.
"All my neighbours look at my lawn in awe. My front yard has never looked better. The guys always come on time and never miss appointments. I am very happy with their work. Will continue using their services and I strongly recommend them to you." – Justin Thompson
"I have a big garden and I usually just don't have enough spare time to take care of it, as much as I would like to. I found this company on google and decided to give it a try. It has been almost two years now that their gardeners come once every two weeks and maintain everything in perfect condition. The job is done fast, efficiently and in a very professional manner. Thank you Top Class Cleaners!" – Michael