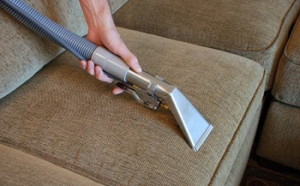 There's a lot more to upholstery cleaning than just applying a detergent and scrubbing helter-skelter. That's why professional help is becoming so popular. The first thing we consider when approaching your furniture is the material used in its make. Indeed, synthetic fabrics are designed for ease of care, but there's still the chance you ruin your furniture and make it impossible even for skilled hands to undo the wrong. And if your furniture is more than 50% cotton, then calling us is your best bet.
We're experienced in applying different cleaning methods to make sure we deliver the agreed-upon service in a prompt and cost-efficient manner. Whether it's dry cleaning, steam cleaning, down to the simplest stain removal, we're there to offer you the best available way of restoring the former glory of your furniture.
We all know how easy it is to stain your upholstery. Whether you spilled something or your pet or child made a mess, cleaning it is not an easy process. It requires a lot of knowledge about the certain stain, the materials of your upholstery and most importantly, the method and products you are about to use on it. This is why we suggest you leave behind all attempts to clean your upholstery on your own. The chances of you damaging its surface are much higher than the chances of stain removal. Call us right away, we work 7 days a week and we can send a team over immediately. We offer you professional cleaning with top quality equipment and detergents that will not only remove the stain but also leave your upholstery clean, disinfected, fresh smelling and with a brand new look. Whatever the condition of it is, our technicians will figure a way to fix it. They have a lot of experience and knowledge about all things crucial to the proper cleaning of your furniture without causing any damage to it. The first thing they will do is run tests on the fabric and fibers of your upholstery. This will help them determine the exact type of materials used and decide on how to proceed further. We provide them with a wide range of detergents and products so there is no stain or fabric that will prevent them from doing their best.
There are two methods that we usually use – steam cleaning and dry cleaning of upholstery. Let us tell you a few things about each one:
Steam Cleaning – This is the method we usually use. It is extremely efficient and leaves your upholstery clean and disinfected. During this process a steam cleaning machine is used. It extracts water into hot steam ( up to 130 degrees) and dissolves the dirt found on your upholstered furniture. Here are the steps for this cleaning method:
The technicians arrive at your home and run different tests to figure out the type of materials and fabrics on your upholstery as well as any specific stains you might have. They will run a pH test and a burn test.
After that, a product is chosen. We only work with high-quality shampoos and detergents. They are non-toxic and provide best results while not damaging the surface of your upholstery.
The whole surface is thoroughly vacuumed, in order to remove any dust, dirt and particles from your upholstery
The solution of choice is applied on the areas that require it, like some heavily-stained areas.The chemicals in it help with the dissolving of the stains.
The powerful steam cleaner is brought in. The hot, high pressure steam completely dissolves all stains, leaving your upholstery dirt and bacteria – free.
We deodorize the piece of upholstery and extract most of the moisture, in order to speed up the drying process.
Dry Cleaning – This is a fairly new method, used for more delicate or not so heavily-stained fabrics. The essence of this technique is the dry cleaning detergent that is put on your upholstery. It reacts with the oils in the stain, which are usually the components that make dirt stick to your upholstery fibers. The process takes a bit longer because you have to wait for the product to fully react, but you do not have to wait for your furniture to dry after!
The technicians run the tests and then vacuum the whole surface. This is a crucial step in dry cleaning because if some dirt is left prior to the treatment it might dissolve and cause staining.
The special dry cleaning foam or powder is applied to the upholstery, or to the stained area only. The product starts reacting and is left on for about 2 hours.
After it has dissolved the stains, the particular product is removed, using a rotary machine with cotton pads, soaked in hot water, placed on the bottom of it.
Delicate fabrics require different ways of treating them. A rule of thumb is that as little as possible moisture should be involved in the cleaning process – our up-to-date tools allow us to gently rinse the surface and extract the grime from the very base of your furniture. This usually leaves the furniture almost dry, and thus shortens the time required for completely dry upholstery.
We strongly suggest that you do not attempt anything on your own. Whenever a spillage occurs, contact us as soon as possible. The sooner we come and treat the stain, the better are the chances of it being completely removed from your upholstery. We also suggest you treat your upholstery like a carpet ( vacuum it at least once a week). This will help remove dust and dirt and prevent them from building up and causing unpleasant odors or dirty appearance. It will also prolong the life of your upholstery.
Top-of-the-range equipment and cleaning materials are provided by some of the cleaning industry's most prominent names. We believe that investing in top notch tools yields greater returns in terms of thousands of satisfied clients and new areas where our reputation is already known and our services are already desired, thus allowing us to expand across the country and make more people happy. We offer first-rate cleans and competitive prices by way of delivering our service in bundles tailored to fit even the tightest budget. Even though we are inclined to step back on prices, we always strive to deliver a high quality service.
Designed to deliver consistent and thorough service, our company's been on the market helping people with their upholstered furniture for a long time now. Positive feedback has helped us claim our rightful place in the list with best cleaning service providers.
Find Our Sofa Cleaners Here: Frequently Asked Questions

Do you clean all types of upholstery?

Yes, we clean all types of upholstery (sofas, armchairs etc.) and all kinds of fabrics as well – nylon, acrylic, wool, cotton, bamboo, polypropylene and many others.

How long do I have to wait for my upholstery to dry?

Depending on the type of upholstery, as well as its fabric, it usually takes between 3 and 6 hours. Keep in mind that wool and wool blends take longer.

How often should I clean my upholstery?

To maintain a clean environment at home or at the office, we suggest you clean your upholstery once every 4-6 months. However, by vacuuming it weekly and regularly cleaning it you will maintain its cleanliness and prolong its life.

Are the products that you use safe?

Yes! All products and detergents we work with are top quality professional ones. They manage to provide impeccable cleaning results while being 100% safe, non-toxic and child and pet-friendly.

Can you remove all kinds of stains from my upholstery?

Of course, we aim to provide good quality without jeopardizing our customer's health. Please make sure you tell your booking agent about your allergy and they will make sure the cleaners don't use it on your premises.

I am allergic to certain chemicals, can you not use them?

Of course, we aim to provide good quality without jeopardizing our customer's health. Please make sure you tell your booking agent about your allergy and they will make sure the cleaners don't use it on your premises.

"I got some second hand upholstery (a very nice one) on the internet. It arrived in terrible condition, I doubt anyone has ever cleaned it before. This is when I looked for a professional upholstery cleaning service. I found these guys and I booked them right away. They came over and in less than 3 hours transformed the two armchairs and sofa. Brilliant results, they look brand new! I highly recommend this company." – Charlie T.

"I was seriously considering replacing my old upholstery with a new one. However, i am quite sentimental so i didn't really like the idea much. Someone recommended this service to me and i decided to give it a try. I had no idea there was such a thing on the market! So easy, so convenient. Loved the results. Thank you guys!" – Simon