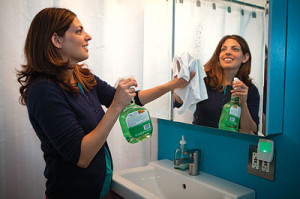 We offer you reliable and affordable domestic cleaning services for your home in London. Get advantage of our free instant quotation by calling us via phone.
Domestic cleaning is a service that rapidly grows in popularity. Due to the high competitiveness on the market the prices of this service grow lower and they become more affordable for a larger scope of people. If you thought that hiring a domestic cleaner is something very expensive and that nobody but the richest of people can afford, then you are completely mistaken. We managed to make this service affordable and available to all people that might need it. We wanted to bring the quality of more peoples' lives to another level by creating a beautiful and clean atmosphere around them.
Truth is that living in the environment which is created nowadays people have less and less free time. Not everyone can handle being a parent, a professional at their trade, a friend, a husband or wife, and on top of that having the time to clean the house. There is enough stress created by either work or relationships and having to clean your home instead of relaxing just adds more stress on top. If you are struggling to keep up with your chores and they have piled up recently, or your house is simply not in the condition you wish it was in, call us right away. We have the perfect people for the job. We provide regular domestic cleaning so you can use your spare time in better ways than vacuuming, dusting and cleaning. Trust is with the cleanliness of your home and we promise not to disappoint you. Schedule your regular cleaning daily, weekly, fortnightly or monthly. Share your personal preferences and requests and we will choose the best candidate for the job.
The pros of applying for domestic cleaning services are many. You will have a lot more free time to spend relaxing, enjoying the family, going out with friends or digging deeper into your favourite hobby. Furthermore, you will never have to worry about the state that your house is in should you wish to invite someone over or go out for the weekend. We guarantee that your establishment will always be in its peak form and with great smell as well.
This type of cleaning was made to benefit our customers at 100%. This means that you get to choose everything that will be performed on your premises. We offer you a basic list of chores we cover and we ask you for any additional tasks or personal requirements you might have. You can make a list and share it with your booking agent who will make sure your cleaner comes prepared to do everything just how you want it. Once you schedule a regular cleaning session, you will be able to edit the task lists and request less or more.
Kitchen
washing the dishes/loading the dishwasher
cleaning and disinfecting all surfaces
cleaning and disinfecting the sink and taps
exterior cleaning of all appliances
dusting and polishing any shelves or cabinets
cleaning and disinfecting the table and chairs
disposing of all rubbish
vacuuming and mopping the floor
Bathroom
washing and disinfecting sink and taps
cleaning and disinfecting toilet and seat
cleaning and polishing shower taps, head and hose
cleaning and polishing of tiles surfaces
polishing of mirrors and glass surfaces
cleaning the drain and wash basin
vacuuming and mopping the floor
Living Room and Bedroom
dusting and polishing all surfaces and decorations
all windows and mirrors cleaned
vacuuming all floors, carpets and upholstery
disposing of trash
Hiring a professional cleaner is very easy – just contact Top Class Cleaning and we will present you with a quote at once. A lot of elderly people also enjoy our services, because having a helping hand around the house when you don't have the ability to clean it by yourself is something precious. Our cleaners go through a thorough background check prior to their hiring. Furthermore, they are professionally trained so that you do not have to worry about anything in the house going missing or that the service we offer will be poorly done. We provide one of the best domestic cleaning services in London, which is our stamp of quality for the services we offer.
Areas Covered
We provide our reliable domestic cleaning services in West London including the following areas
We Cover New Areas!
Frequently Asked Questions
Will I get the same cleaner every time?

Yes, once you choose your scheduled cleaning time, the same person will be coming to do the cleaning. This works best because you get to know each other and they will be able to tend to your personal requests better.

Do I have to be there?

Not unless you want to. Some customers give us access to the premises and only come back when we are finished, while others prefer to stay and supervise. Either option is fine with us.

Do I have to provide anything?

Not at all. All cleaners come fully equipped with professional tools and detergents, ready to get on with the job. All we need from you is access to the premises. Whenever you get assigned with a cleaner and start trusting them enough, you can provide them with a spare key so they can do their job even when you are away from home.

Are the products that you use safe/do you use any harsh chemicals?

If there are certain products you would like us to use on your premises, feel free to tell us and we will do just that! In case of any allergies please let us know in advance so we avoid using them.

Can you use my own products?

If there are certain products you would like us to use on your premises, feel free to tell us and we will do just that! In case of any allergies please let us know in advance so we avoid using them.
"I work a lot and honestly, I was not happy with the condition of my house at all. I wished it was cleaner, cosier. A friend of mine recommended this company and guess what! My house is much cleaner and cosier now. I am so glad I found these guys. I have a cleaner that comes every week and does all my chores. It is so useful and I have so much more free time. Thank you! Keep up the good work." – Will Stranbury
" I am an elderly lady and it gets harder and harder for me to go around the house and do chores. I have Tina now. She comes every week and does everything for me. Very nice young lady, very professional too. All the things I ask for, she does with ease and makes sure everything is just right. I am thankful to all members of your staff for providing this service and helping people like myself and many others with their homes." – Margarite
We can arrange for you to meet with your domestic cleaner, so that you can get to know the person who will visit and clean your home. Our services are very flexible in both cleaning hours and visits. You can have your house cleaned once per week or once per day – whatever suits your needs. Bear in mind though, that once an arrangement on the cleaning times has been made you can not go back on it.