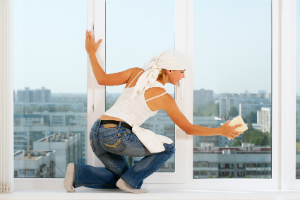 Needless to say, sparkling clean windows can make your house look great inside and out. However, their cleaning is not easy, especially the outside part. You have just come across the solution to your window cleaning worries. We are a company, known for delivering excellent window cleaning services throughout London and employing the most skilful window cleaners in the region.
SInce windows are so important for the looks of the house, we provide both internal and external window cleaning. We cover both private and commercial clients. All dust, dirt, bug stains and hard water stains will be removed from your windows. As soon as you hire us, our technicians will come to your house fully-equipped with everything needed to provide ultimate clean results for your windows.
You have probably tried cleaning the windows with expensive, toxic detergents and got disappointing results.Have you ever considered hiring professional cleaning for your windows? In order to be successful, a window cleaning procedure has to be performed by professionals who have the knowledge and the equipment needed.
We provide our window cleaners with the best materials that guarantee outstanding results.
Window Cleaning
Internal Price
External Price
One Bed Property
£30

£20

£50

£40

Two Bed Property
£40

£30

£70

£60

Three Bed Property
£50

£40

£90

£80

Commercial Cleaning
Call for a quote
The window cleaners will use ionic purified water and special telescopic, water fed poles that don't have any negative impact on the environment. This allows us to reach higher floors without using a ladder, keeping everything as safe as possible. The service can be arranged for a day and time that best fits your availability so any disturbance is avoided. Avoiding harsh chemicals and only using purified water allows us to not only clean your windows to perfection but also avoid damage or staining on the outside of your building.
Here are some of the benefits that we offer:
we will provide the materials needed
our window cleaners are experienced enough to prevent any damages and injuries
we don't use harmful cleaning materials
the procedure is efficient and hassle free
the prices are the most sensible in the industry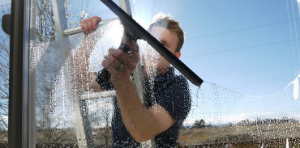 We can provide you with a window cleaning service even if you live on a higher floor. The equipment we have allows the window cleaners reach significant heights but the risk of accidents is kept to the minimum. We will take care of all the ladders, squeegees and supporting equipment. We organise our time very well so we are very efficient. Depending on the number of windows you have, the whole process might take between 40 minutes and 3 hours.
We cover all windows, window sills, fly screens, window frames and all glass doors.
We can also work on removing hard water stains, soap scum, lime scale and glass corrosion upon request, for an additional charge.
As a reputable cleaning company, our top priority is your satisfaction. We have never chased transactions but long – lasting relations with our clients. Bearing that in mind, the price rates we maintain are reasonable and affordable to anyone who has a limited budget.
We suggest you clean your windows regularly. This will help maintain the good looks of your house, as well as prevent dirt and dust from building up on your windows. We want to ensure the best quality so we commit to our customers needs and wishes at 100%
Window Cleaners London:
Booking us is fairly easy. You just have to get in touch with the call center supporters and give them some basic information. We will take care of the rest.
Don't hesitate to contact us at your earliest convenience and book a window cleaning service that undoubtedly leads to impeccable results. The booking procedure is simplified for your convenience and the call center agents are available round the clock, prepared to provide you with detailed answers to all your questions.
Frequently Asked Questions
How often should I clean my windows?

In order to maintain the good look of your home, we suggest that residential customers should clean their windows every 3-6 months. Keep in mind that regular window cleaning will help your windows stay clean for longer, as it prevents dirt from sticking on them and building up.

Do you still come if it's raining?

Yes, these services can be performed in bad weather. As long as it's not a serious storm, when we would have to reschedule, our teams will still come and clean your windows even if it's raining.

Isn't the rain making my windows dirty?

No, the main reasons for dirty windows are fingerprints, bug marks and dust. Raindrops stick to those and make your windows look dirty. If they have been recently cleaned and there is nothing the raindrops can attach to, they will just slide off. This is why regular cleaning of the windows keeps them clean for longer.

Do you clean commercial and office buildings as well?

Yes, we cover all kinds of buildings. Office buildings, shops, restaurants, conservatories and many others. Feel free to call and give information to our office agents, they will suggest what is best for your particular situation.
"My French windows are so clean, I can't stop looking through them. Thank you guys for everything, The booking agent was so polite and the cleaners were nice and punctual. I am very pleased with the service. " – Tiffany Piers
"I have attempted to clean my windows many times in the past. All of them failed. It is hard to reach the outside and I ended up just smudging the dirt around. I was expecting some guests and was eager to make a good impression on them. So I found this professional window cleaning service which left me so pleased. Everything was done in a matter of less than 2 hours. My windows are sparkling clean. Could not recommend this enough!" – Dave G.