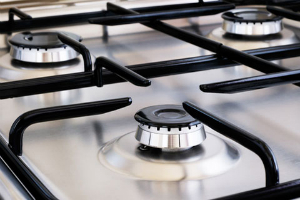 Kitchens, especially cooking areas, are incredibly prone to gathering dirt, grime and grease. Most of us overlook oven cleaning but in fact, it is crucial to our home and kitchen hygiene. The grease that gathers on the inside of our ovens not only makes our meals taste differently. It is extremely unhygienic and a potential fire hazard. We should not let this happen to our ovens but rarely we do not have spare time to scrub and clean them. This is why we offer you our oven cleaning service. Hire the best professionals and bring your old oven to the ultimate clean state it was once in.
We have had Deep Oven Cleaning on our service list for many years now. We have perfected all details of this service which, in fact, requires a lot of skills and professional experience. Cleaning your oven by yourself can be quite difficult, time-consuming and definitely not bring the desired results. Let us take care of it for you. We have the best equipment and tools and we promise to take proper care of your appliance.
If you want the best for your oven, our service is what you can rely on. We work with the best team of experienced cleaners, who are excellent at their job and can successfully remove every type of tough stain from your oven. We also carry out the cleaning process with the help of a variety of high-quality natural detergents, all of which are perfectly safe for both the environment and your family's health.
Oven Cleaning Services
Price
Single Oven Cleaning (60 cm)
£60
Double Oven Cleaning
from £79
Hobs/Extractor

from

£20
Microwave
£20
Range Oven
£90
Here is how the cleaning process goes:
The team disassembles your oven, taking all removable parts to our vans. The vehicles we come in are equipped with special heating tanks. We pour special detergents in the water of the tanks. The solution is being heated and all the parts are placed into it. The detergent dissolves all grease and carbon that is found on the oven parts.
Meanwhile, the stove top of your oven is scraped with a special tool and all burned food, grease and grime is removed from its surface.
The inside of the oven is covered with a special paste and turned on for a couple of hours. This paste is activated by the heat. It reacts with all the grease that is on the walls and bottom of your oven and dissolves it. However, this product is completely safe so you don't have to worry.
Later, when the paste is done doing its job, it is scraped with a special blade along with all the nasty bits from the inside of your oven.
The parts that have been soaking in the heated tanks are taken out, rinsed, wiped and disinfected.
The inside of your oven is also wiped with a microfiber cloth and disinfected.
All the parts are reassembled and your oven is ready to be used.
We also clean microwaves, BBQs (gas, charcoal and hooded), extractors and professional cookers.
Our cleaning products are chemical-free and don't put your health at risk. They are mild and protect the surface of your oven and yet are strong enough to do the job ideally.
Oven Cleaners London
We also provide:
Affordable prices
Excellent work
Professional performance
Quick results
Removal of all stains
Natural detergents
Better taste for all meals you prepare
Reducing the risk of fire from carbonized grease
No smoke or burning smell when using it
Better working oven with even distribution of heat inside it
Healthier household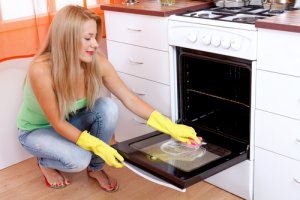 Our reliable employees will come to your place at the right time and help you acquire a clean and disinfected oven that looks brand new. They will inspect the oven carefully and determine the right approach to cleaning it in the safest and most effective way. You can contact us any day of the week, also on holidays. We are available any time to come and clean your oven for you. For more information, please contact our customer support center.
Our company has been in the industry for many years, developing and improving its services in order to make sure that clients are always happy with the work. We operate in London, where we cover the whole area and please a huge number of clients every day. We offer the best oven cleaning services that have made many customers happy and have provided them with extremely clean and disinfected ovens.
Frequently Asked Questions
How long does the process take?

Usually between 2 and 4 hours, depending on the type and condition of your oven.

When can I use my oven after cleaning?

As soon as our technicians are done! We leave your oven completely clean, disinfected and ready for your next cooking session.

How often should I clean my oven?

We recommend cleaning the oven every 2-4 months. This, of course, depends on how often you use it. Usually though, this is enough to keep it clean and safe for your household.

Do I have to provide anything?

Not at all! Our technicians will come, equipped with everything needed to clean your oven completely.

Do you need to use my sink?

No. Maybe some hot water will be needed but we will not use your sink for the cleaning process. We do the cleaning in our vans, inside the heating tanks. This is in order to maintain the cleanliness of your house and not make a mess.
"I have tried many times to clean my oven internally, however, those home remedies on the internet don't seem to work so well. I hired Top Class Cleaners and honestly, they did wonders. The team was extremely professional, did the job fast and left my oven looking brand new. Quite impressive, would use it again!" – Martha
"The cleaners were very friendly, didnt make a mess and did the job in a very professional manner. Quite happy with the service I received. My oven does not smell like something is burning anymore. Thank you for saving me all the effort and time." – Karl Cunard