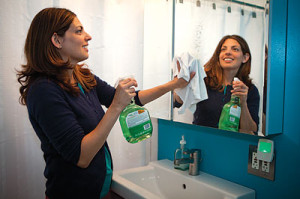 Reliable and affordable domestic cleaning services for your home in London. Get advantage of our free instant quotation by calling us via phone.
Domestic cleaning is a service that rapidly grows in popularity. Due to the high competitiveness on the market the prices of this service grow lower and they become more affordable for larger scope of people. If you thought that hiring a domestic cleaner is something very expensive and that nobody but the richest of people can afford, then you are completely mistaken.
Truth is that living in the environment which is created nowadays people have less and less free time. Not everyone can handle being a parent, a professional at their trade, a friend, a husband or wife, and on top of that having the time to clean the house. There is enough stress created by either work or relationships and having to clean your home instead of relaxing just adds more stress on top. That is why many people have improved their lives by hiring a professional domestic cleaner.
House Cleaners London
The pros of applying for domestic cleaning services are many. You will have a lot more free time to spend relaxing, enjoying the family, going out with friends or dig deeper into your favourite hobby. Furthermore, you will never have to worry about the state that your house is in should you wish to invite someone over or go out for the weekend. We guarantee that your establishment will always be in its peak form and with great smell as well.
Hiring a professional cleaner is very easy – just contact London Tenancy Cleaning and we will present you with a quote at once. A lot of elderly people also enjoy our services, because having a helping hand around the house when you don't have the ability to clean it by yourself is something precious.
Areas Covered
We provide our reliable domestic cleaning services in West London including the following areas
Our cleaners go through a thorough background check before we hire them. Furthermore they are professionally trained, so that you do not have to worry about anything in the house going missing or that the service we offer will be poorly done. We provide one of the best domestic cleaning services in London, which is our stamp of quality for the services we offer.
We Cover New Areas!
We can arrange for you to meet with your domestic cleaner, so that you can get to know the person who will visit and clean your home. Our services are very flexible in both cleaning hours and visits. You can have your house cleaned once per week or once per day – whatever suits your needs. Bear in mind though, that once an arrangement on the cleaning times has been made you can not go back on it.